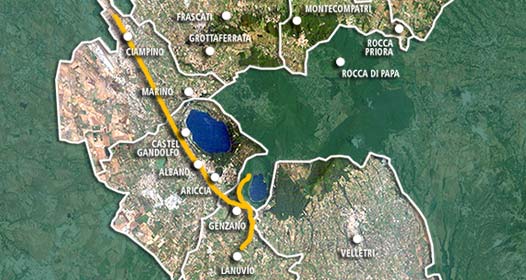 Coming from Rome, along the Via Appia (S.S.7), towards the Ciampino's Airport, at the crossroads with via dell'Aeroscalo, on the left you will find a rout paved with slabs, i.e. an ancient stretch of the Via Appia Antica, and some towers. This rout leads to Frattocchie, where it stops near Santa Maria delle Mole. Recently it has been restored and therefore it can be completely crossed.

Continuing to cross Via Appia you will reach the town of Albano Laziale, rich in archaeological ruins: ancient villas (villa di Pompeo), and structures built when the town hosted the roman soldiers of the Seconda Legione Partica: an amphitheatre, the Cisternoni (water tanks); the thermal building, a structure utilized as a nympheum from the emperor Domitian in his villa, (Church of Santa Maria della Rotonda) and the baths of Cellomaio, within the Church of San Pietro.

Leaving the Via Appia near the Church of Santa Maria della Stella, (via della Stella) you will cross again an ancient stretch of the Via Appia Antica; after the first roundabout you will reach the ruins of one of the gate built along the Via Appia Antica. This road leads to Genzano, and crossing this stretch it is possible to see its substratum.

In Genzano turn again to via Appia. Once you reach this town, visit the ruins of the goddess Diana's temple and the Museum which preserves two ancient roman ships. Cross Corso Don Minzoni, at the centre of the town, till the crossroads with via S. Silvestri, and follow the road signs towards Lanuvio. In Lanuvio you will find again an ancient stretch of this old road flanked by walls built in opus quadratum. Visit also the ruins of the temple of "Giunone Sospita".